Sunrise Cottage
This cottage comfortably fits 4 adults and 2 children.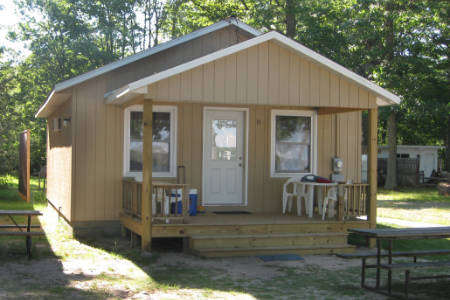 Details
Number of people allowed:
4 Adults, 2 Children
5% Room and 6% Sales Tax
No Pets
All cabins are non-smoking
#15 Sunrise Cottage
This cottage comfortably fits 4 adults and 2 children.
Sunrise faces Bass Lake has been completely remodeled from the ground up.
This comfortable cabin has a large table/seating area for dining and a couch and soft chairs in the living room.
The kitchen shares the living area with a serving bar dividing them. It has a microwave, gas stove, refrigerator and dishwasher. All dishes, cups and cooking utensils are supplied as well as a coffee maker.
The cabin has a modern bathroom with shower and two large bedrooms with queen beds. Having a clear view to the lake, sitting on the porch of an evening is a way to enjoy the breezes. Sunrise stays cool most of the summer but it is also air conditioned if needed.
Amenities
2 Bedrooms
Air Conditioning
Refrigerator and Stove with Oven
Microwave, Coffee Maker, and Dishwasher
Kitchen utensils and dishes
Free Wi-Fi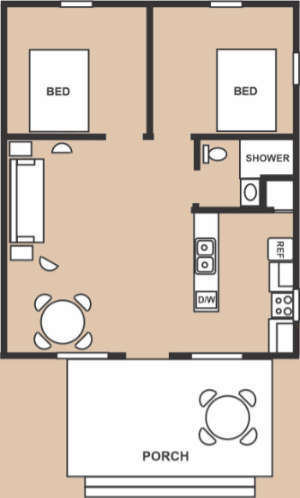 2021 Cottage Rental Policies
1. Payment: A non-refundable deposit of $400 per week confirms your reservation; balance to be paid before second night! (Discounted deposit for night / weekend stays)
2. Reservations: A verbal reservation before you leave will hold your cabin for the same week next year, until March 1. On February 1 we send out our reservation cards asking for your $400.00 per week deposit to confirm your reservation!
*No Response by March 1 means cancellation!
3. Discounts: Ask about seasonal and cash discounts.
4. Linens: WE DO NOT supply linens or personal supplies due to Covid 19 to prevent the spread of any virus. We will resume renting these items when the situation improves. Please plan to bring your own bedding, towels, etc.
5. Booster Chair: - $5.00.
6. No Tents or Camping
7. Check in Time: 4pm. - Check Out Time: 10am If you are unable to check in by 6 pm, please notify us or your cabin will be rented.
*Contact us today 9am to 7pm to reserve the cottage of your choice!
Contact us today 9am to 7pm to reserve your place in the cottage you want!