Activites - The Beach
There are several beautiful Lake Michigan Beaches with Crystal Clear Water within walking distance.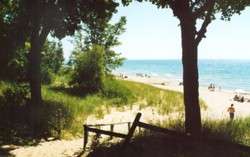 Summit Park and Beach
Pictured to the left is the path down to Summit Park Beach. Summit Park is just down the road and includes a playground, bath houses, restrooms, picnic tables, tennis courts and basketball courts with plenty of parking. It's a great place to take the family.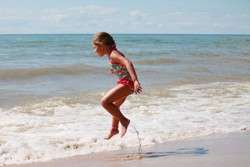 Sunset Beach
Just a short stroll down the road is Sunset Beach. A straight sandy beach, just a few yards off the road and is quite shallow for the small children then gradually deepens for adults. Parking is limited but the beach is very nice.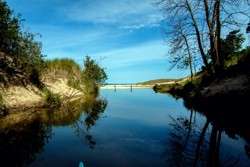 Outlet and Beach
Around the corner and a short walk down Thiele Road to Mack Road is the Outlet Beach. This is where Bass Lake empties over a small dam into Lake Michigan. This gives the little ones a place to play in shallow water of the outlet but also the open beach with waves for the older ones. You can also get to the Outlet Beach by boat, it is a quiet winding passage through wooded dunes and you can beach the boat at the dam. Just ask us for directions.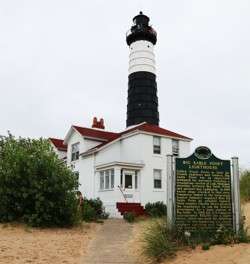 Mears State Park Beach at Pentwater and Stearns State Park Beach in Ludington
Mears State Park Beach also has a snack bar, parking, playground equipment, and has camping facilities. Stearns State Park Beach in Ludington is a huge white sand beach that is open to the public with picnic tables and grills in a shaded parklike setting. There is also a snack bar, Skateboard Park, and you can walk out on the breakwater to the Ludington Light House. Quite a view. Ludington is just 10 miles north on State Road 31.
View Our Other Activities
Bass Lake Resort Location
Ferwerda's Bass Lake Resort, L.L.C., is located on US 31 North, 5 miles north of Pentwater and 10 miles south of Ludington, Michigan.

Traveling north on US 31 from Pentwater take the Oceana Drive Exit, turn left across US 31 onto Business 31. The road will wind approximately half a mile and you will pass over a small bridge.

Turn right on to South Lakeshore Drive. Lakeshore Drive will veer left alongside the lake and in about a mile you will make a sharp left followed immediately by a sharp right.

Travel up over the small hill and slow down. Look straight ahead for the Ferwerda's Bass Lake Resort sign.